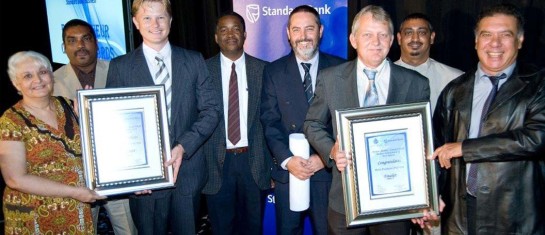 Ifuba Products was nominated as a finalist for the Durban Chamber of Commerce and Standard Banks Entrepreneur of 2010 contest.Competing against 4 other finalist nominated in category A for businesses with annual income of 0 to 25 million, they were ecstatic to be the winner of this prestigious award.
Qualifying criteria for entrants were that the business had to be profitably running for more than two years as well as had to show positive statistics in Employment, Staff training, Equity and Social Responsibility.
The competition was audited and verified by Deloitte.
Managing Director Mike Todd attributes the overwhelming success of the company in such a short time to loyal clients, reliable suppliers and most importantly dedicated staff. On accepting the award at a ceremony held at The Durban ICC He had this to say " A business succeeds not because it is big or because it is long established but because there are people in it who live it, sleep it, dream it and build great future plans for it.Ifuba Products places considerable emphasis on the holistic development of staff, training and team building.  Recognition is important to us."
"Our customers needs are simple, we strive to provide them with well priced products of good quality, delivered on time"
Well done Ifuba !!
Social Share