Ifuba Products are Manufacturers and Distributors of Interior Building Systems in South Africa, Sub-Saharan Africa and the Indian Ocean Islands. Our tried and trusted product range has been manufactured and distributed in South Africa for decades and consists of the following highly functional interior finishing systems: Hufcor operable Partitions Hufcor Glasswall Trucore Architectural Timber Doors Pyropanel Fire Doors T1 – Toilet Partitions T2 – Frameless Toilet Partitions Aluminium 40mm Internal Doors A Brief History Ifuba Products is a BEE company established in 2008. Ifuba Products was created when Pelican Systems, a joint venture partner of the Lafarge Gypsum Group and leading South African company in building interior systems, agreed to sell the manufacturing wing of its establishment. 
The decision to sell this specialist part of its business was in order to focus on Lafarge Gypsums core strategy of sales and distribution of gypsum products nationally. The manufactured niche specialised products, although in great demand by the industry, did not form part of this strategy. Our Vision Our Vision is to ensure our customer achieves a high level of satisfaction when dealing with our organisation. We ensure a high quality, functional product that remains value driven. We aim to satisfy our customer with acceptable turnaround times as well as the correct product originally specified. Due to the technical and high innovative nature of most of our products we intend to remain the leader in specialised interior products manufacture for many years to come. Accolades Ifuba Products was nominated by Standard Bank to enter for the Durban Chamber Of Commerce & Standard Bank's Entrepreneurial Company of 2010 contest. Competing eventually against 4 other Finalists in Category A at the Durban ICC, the company was ecstatic to be announced as the winner of this prestigious award. Qualifying criteria for entrants were that the business had to be profitably running for more than two years as well as had to show positive statistics in Employment, Staff training, Equity and Social Responsibility. 
The competition was audited and verified by Deloitte. The prize money, awarded by Standard Bank, was shared amongst the staff as well as various charitable organizations that the company supports.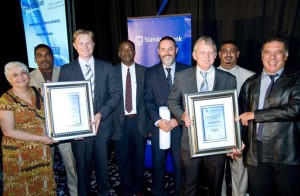 Managing Director Mike Todd attributes the overwhelming success of the company in such a short time to loyal clients, reliable suppliers and most importantly dedicated staff. On accepting the award at a ceremony held at The Durban ICC He had this to say " A business succeeds not because it is big or because it is long established but because there are people in it who live it, sleep it, dream it and build great future plans for it.Ifuba Products places considerable emphasis on the holistic development of staff, training and team building.  Recognition is important to us."
"Our customers needs are simple, we strive to provide them with well priced products of good quality, delivered on time"
For more information on Ifuba Products download our Company Profile.