Ifuba is the only licensed manufacturer of Hufcor Operable Glasswall Partitions in Africa. Hufcor Glasswalls are an operable glass partition system that can be stacked way remotely to provide a clear entrance opening or closed to provide a physical as opposed to a visual barrier.
They allow the light to come in and provide the flexibility to reconfigure space.
The system is unique in that the panels have no vertical glazing styles and is a is a set of Frameless Glass Door Panels facilitating clear uninterrupted views and a distinctive elegance that only glass can offer. Glasswall is perfect for interior and exterior and is ideal for applications such as Patio Doors and Shopfront Doors in Banking Halls, Restaurants etc. and anywhere it can provide an aesthetic and functional enhancement to a building.
Frameless Glasswall panels are made from a sheet of glass attached to top and bottom aluminum horizontal rails. What separates Hufcor movable glass panels are the mechanical fasteners that secure the glass to the rails. We simply do not rely on friction to secure the panels into the top rails. Our rail system incorporates a durable support pin that is inserted thru holes in the glass to mechanically secure the panel in place without slipping.
The term frameless is used due to the lack of a vertical frame member. The glass edges are polished for a smooth finish. Frameless glass panels are suspended from an overhead track and carrier system where no floor tracks or guides are needed. The panels require floor pins and receptacles in the floor to keep them secure and aligned  in the opening.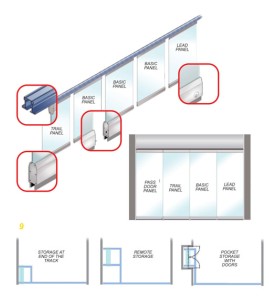 Hufcor Omni Directional Glasswall
Our Frameless Glasswalls are available as omni panels or as single panels also known as omni-directional or individual panels. Top hung and bottom rolling sliding door mechanisms can be accommodated in the Glasswall top and bottom rails providing an elegant vertical free sliding door system within a frameless or normal glass front.
Glasswall Single and Double Action Pass Doors
Single or double action Floor Springs and pivots are also easily accommodated in the Glasswall top and bottom rails. This means that they can be utilised to create pass doors with no vertical stiles, which are ideal, for entrances to shops.
Custom Graphics & Decals
Get creative and apply custom graphics and decals to the Hufcor frameless glasswall. 

Custom Coloured Top and Btm Rails
The Hufcor Glasswall standard clear anodized aluminum rails can be custom anodized in a host of colors. Brushed stainless steel cladding is popular.

Hufcor Glasswalls Unique Features
Glasswall uses Hufcor's proven track systems.
Hufcor track and carrier systems are factory cycle tested and come with a two-year factory warrantee.
Being top hung the system does not require any unsightly bottom track.
There are no vertical glazing stiles.
The bottom and top rails are elegantly shaped and compliment the overall design of the system.
The system utilizes 12mm toughened safety glass and is extremely safe and secure.
The glass panes are suspended by a unique locking mechanism, which ensures the glass will never slip.
Glasswall unique locking mechanism is totally concealed when in the closed position and means there are no visible flush bolts or other unsightly locking mechanisms.
Glasswall panels locate in position with a unique flush mounted dust proof foot bolt cup, which ensures the floor design is not compromised in an unsightly way.
An elegantly designed thumb lock locks the last panel in the run into position.
The pass door panel locks against the last panel using a flush mounted lock, which has been specifically designed to compliment the overall aesthetics of the system.
The glass panels can also be used as an effective graphic tool by sandblasting or screen printing designs onto the glass. (See fig 4)
The Glasswall tracks and frames can be colour co-ordinated and are anodised to a minimum of 10 microns for internal applications and 25 microns for exterior coastal applications.
For more detailed and technical information on this product and the product specification download our product brochure.