Trucore Interior Timber Doors
Trucore interior timber doors are of medium/heavy duty construction and are available in a variety of timber finishes.
Trucore Eco friendly architectural timber doors are manufactured with the highest standard of quality raw materials and are subjected to stringent quality checks throughout the manufacturing process. All the imported cores utilised in the manufacture of Trucore doors are PEFC Certified which adds credence to the doors green properties.
Door Finishes
The Trucore range of quality timber doors is available in an extensive selection of finishes to suit your specific requirements.
The more popular door finishes are available ex stock to provide quicker turnaround times, whilst the less common finishes are manufactured on a made to order basis, subject to prevailing lead times.
Stock door finishes include:
Undecorated Masonite
Commercial Veneer for Painting on Site
Sapele Polished
White Beech Polished
Maple Polished
Oak Polished
Cherrywood Polished
All other available finishes are made to order.
Our Promise of Quality and 2 Year Guarantee
All Ifubas timber doors are supplied with a standard 2 year guarantee against defective workmanship.
Caring for the Environment – Our Doors are Eco Friendly

Raw material used in the tubular core construction of our door is untreated sawmill residues from mills providing an environmentally friendly basis for the wood supply. The PEFC-certified raw materials used in our honeycomb core construction are derived from recycled material that is recyclable and repulpable.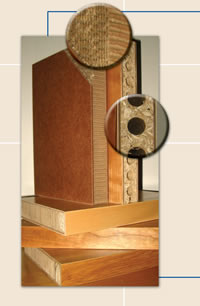 Medium/Heavy Duty Trucore Doors
Totally eco-friendly, the door's honeycomb core is manufactured using recycled material and offers:
Weight Reduction:
Honeycomb cores are incredibly lightweight which means easier transportation, handling, storage, and are simply lighter to work with. Tubular Cores reduce the weight of the doors by up to 60% compared to conventional steel doors.
Strength:
 Innovative technology of the core delivers all the strength benefits of typical honeycomb type construction.
Recyclable:
 Made from recycled material the core is fully recyclable and repulpable
Thickness Precision:
Tubular Cores have a guaranteed thickness tolerance of +/- 0.1mm
Impact Resistance:
Pressure of up to 20kg/cm will not cause any deformation of the door's core.
Sound Insulation:
Sound insulation of up to 30 d/b.
• Doors are a nominal 40 mm thick.
• Door cores are constructed with tubular core technology.
• Door edges are generally solid veneered over edge.
• Door faces are constructed of a suitable board substrate for painting or decoration or a veneered finish.
 
Lead Lined Doors
We also offer a range of Lead Lined Doors 
ideally suited for hospitals and X-ray rooms. Doors are of solid core construction with a 2 mm thick lead lining laminated into the door leaf. The Lead lined doors are available in any of the veneer finishes available can be supplied in standard height or full height option.
Custom Doors

Bespoke doors are be are purpose made doors to suite your specific requirements, including but not limited to hinged doors, pivot doors, sliding doors, sliding folding doors, security doors and glazed doors.
Door Ironmongey
Ifuba stocks and supplies a full range of complimentary door hardware and accessories including, but not limited to items that can be pre-fitted in the factory :
• Door Furniture
• Door Closing Devices
• door frames
• Aluminium Return Air Grilles
• Sliding Door Pelmets and Tracks
• Glazed Viewing Panels
Prefabrication Kit Doors
As we all know in the construction industry "Time is Money". In line with this thinking, Ifuba has developed and offers the essential service of kit forming its timber doors and doorframes for the various partitioning systems that we have on offer.
This service guarantees the following benefits:
• Product quality is consistent and factory guaranteed
• On site installation time is reduced by more than half
• The level of skill required for installers is dramatically reduced
• Less tools are required on site to complete the work
• Less machining is required and thereby noise on site is reduced
• Mess on site is reduced saving valuable time spent cleaning up.
Saving you time, saving you money …
In-house testing has proven that by using our kit doors and frames you will save up to 75% on the labour time normally required to do this work on site. In real terms this means that three prefabricated doors and frames can be fitted to every one door and frame without prefabrication.


Prefabricated Kit Doors
Our popular quality flush panel doors are readily available ex stock in kit form where provision for the lock faceplate has been made, the lock mortice is complete and the holes for the key and spindle are pre-drilled to suite the required ironmongery.

This service is also available for non standard door sizes and finishes.
For more detailed and technical information on this product and the product specification download our product brochure.