Ifuba's T2 Toilet Cubicle System is a superior quality modular toilet cubicle partition system that is a frameless, quality  Toilet Cubicle Partition System that is robust & durable.

T2 – Innovative Design and Superior Aesthetics
Our T2 Frameless Toilet Cubicle Partition System is an innovation in design and superior aesthetics. 
The design and functionality of our T2 Toilet Partition System was inspired by the need for an upmarket, durable yet vandal resistant toilet partition system that can be used in a variety of public facility  applications such as washroom cubicles, ablution cubicles and change room cubicles.
Ifuba's T2 is a frameless panel system is constructed with 12mm high pressure laminate board. The product is superior in quality and is targeted at the high end of the market but remains affordable.
We have also ensured that the look of the product have not been compromised with the frameless system lending itself to neat, clean lines and accompanied by a stylish ironmongery suite.

T2 is ideal for use in:
Shopping Malls
Stadiums
Hotels
Conference Facilities
Educational Institutions

T2 Toilet Partition Cubicle System is:
Economical and quick to install
Neat and hygienic
Double sided facings which are water resistant
Frameless with superior aesthetics
Standard stainless steel ironmongery
Variety of colours options available including woodgrains
Low maintenance and user friendly system

Vandal resistant and rodent proof
Height adjustable feet system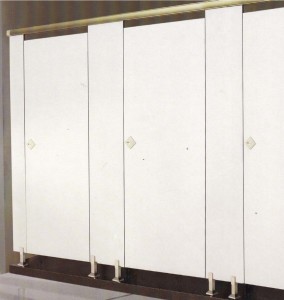 For more detailed and technical information on this product and the product specification download our product brochure.